"
I mean, seriously. Don't be fooled by all the hot shoes and the great sex and the no parents anywhere telling you what to do. Adulthood is responsibility.
"
That was Grey's narration at the beginning of season one's
Grey's Anatomy, episode 5: Shake Your Groove Thing
. ..and the episode, really smeared some kind of feeling of invoked and touched, deep inside of me..
I still remember the day I cut my finger and was sent to a hospital in Bintulu, Sarawak. It was a government hospital and patients were asked to wait for treatment according to the urgency of the case. So as for my case, a tiny wound which needed 6 stitches, was considered 'less urgent' and I deserved a long wait after cleaning and sterilizing my cut.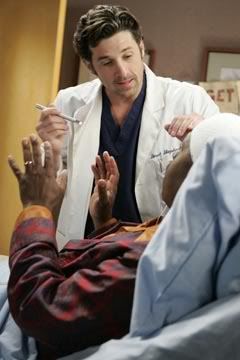 Then a young man involved in a car accident was rushed into the hospital on a gurney. The wounded, hell bloody, shouting and crying, and his friends begging in tears, explaining what had happened to their friend to nurses and doctor -- the scenario, all and all, indicated there was a 'high urgency' case that demanding immediate treatment.
But, surprisingly, none of the personnel did that.
Yeah, my first thought after observing this was exactly the same to what comes into your mind at this moment:
"what da shit hell these people are doing???"
..but then I heard something that really shocked me and, to certain extent, changed my perspective to a word that I've known it for such a long time, but now I was about to start to feel and realize it
: responsibility
.
We know good enough that everybody, which including ourselves, has their own responsibilities, but when things happens, we only see other people's.
Like the case I saw in the hospital, I thought nurses and doctors were those holding full responsibilities to stop the wounded from suffering.. until a nurse shouted at the crying young man, in Iban language, which meant something like "it's your own pain, you caused it by yourself."
Suffering from our own pain, bearing our own mistake, crying on our own fault, feeling heart-torn about our regret...all, are our own responsibilities. She was right.
That was why personnel in the hospital acted 'not efficient enough', .... so that he could feel his pain, he could suffer from his mistake, before he really got treated surgically.
Well, things are sometime not mercy enough. Life isn't about a fairy tale.
Helps and cares sometime do not show up instant enough, because so-called 'after-treatment appreciation' is always the most valuable, where we really learn to be more matured, learn to be more considerate, and learn to be more responsible.
..but, if you are thinking that I am giving alibi or excuses, I will only say, that it is the perspective that matters. The bottom line is, don't blame any other people.
Ey, hoping someone will understand.
25 Jan 2006... 1829hrs.. hometown.