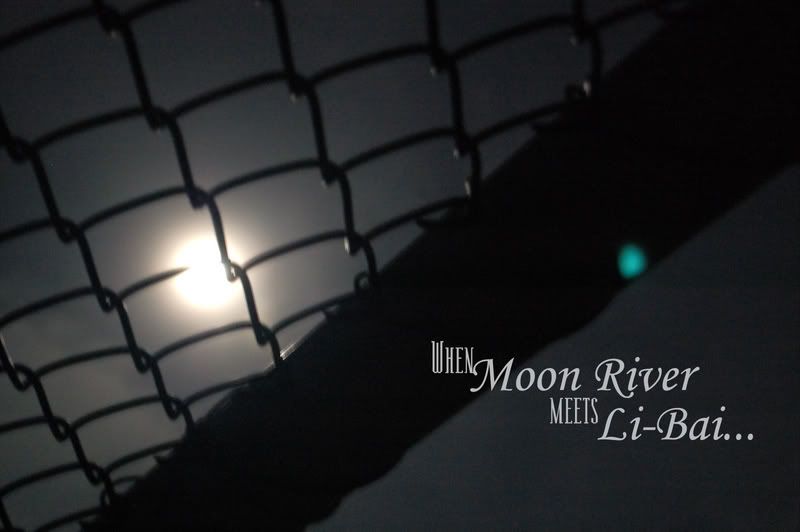 Li-Bai
was a famous Chinese poet of
Tang
Dynasty who was known as Poet Immortal in China's literary history. Ask any Chinese-educated school kid to recite one of the poem from 'The Collection of 300 Poems of
Tang
Dynasty', they'll probably give you the ever famous
'Jing Ye Si'
, or 'The Thought of Silent Night', or 'Thinking in Silent Night' which was written by
Li-Bai
.
The meaning behind and the tranquility of the poem made it one of the favourite poem to be recited or sung during Mid-Autumn Festival, or better known as Mooncake festival or Lantern Festival, on 15th of August of Chinese calendar.

*********************************************************
I was editing the pictures of the moonlit-last night while listening to a collection of movies original soundtracks.The moon was so bright last night, and it created a strong backlight for all the objects on helideck and made their silhouette stood out strongly.
There's a photo of Affendi looking up to the moon and I finely captured his silhouette against the bright monlight. Some familiar phrases swiftly flashed in my mind sudenly but I couldn't catch them, and almost at the same time, my iTune finished up the soundtrack of A.I. 'Where Dreams Are Born', and continuing the feel of serenity, slowly, seapingly, Breakfast At Tiffany's instrumental 'Moon River' started to play through my earphone.
Moon River is always my favourite track, but I've never heard of a instrumental version of it, and I've never knew that the feeling of the song can turn into such an enhancement when the orchestra created the different layers of depth while the guitar and the flute smoothen the flow just like silk.
I switched to the next photo to edit while sinking deeper and deeper into the Moon River. It was another silhouetter of Affendi. I captured the moment he looked down and sunk in deep thought. All of the sudden, I got the phrase that was flashing in my head just now...
It was a poem. I used to sing it in differet modified versions when I was 7, just because I was so familiar with it..
*********************************************************
Affendi and I were having a relaxing chit-chat under the big bright moon and at the same time taking pictures of the moment. It kind of reminded me a tradition of Chinese community which called
'Shang-yue'
(Appreciating the moon), which Chinese would do on the night of Mid-Autumn Festival.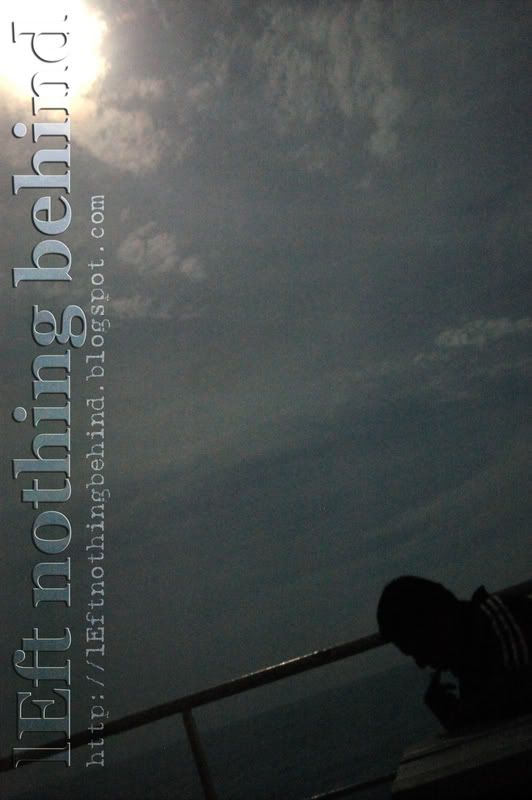 It's actually not any special ceremony but
'Shang-yue'
is a session where everybody of a family or friends gathers under the big bright moon, sipping Chinese tea, having some light snacks and moncake, and sharing the moment of being together. And..erm, yerp, that was exactly what both of us were doing, except the mooncake and Chinese tea, Affendi and I were
'Shang-
ing
Yue'
, appreciating the moon, which I never realized by that time.
I did not realize as well, for real, that that night was actualy the night of Mid-Autumn Festival.
It was like, I just knew what should I do and ask Affendi out when I saw the beautiful moonlit night upon helideck.
*************************************************************
Li
-
Bai
's
'Jing Ye Si'
:
Chuang qian mingyue guang
, (Before my bed, there's bright-lit moonlight,)
Yi shi di shang shuang; (So that it seems, like frost on the ground.)
Jv tou wang mingyue
, (Looking up, I see the bright moon;)
Di tou si guxiang. (Looking down, I dream that I'm home.)
(I can't type Chinese characters using my Fujitsu, which is still an ironic fact for me.. Whatever it is, there's a translation I found it from
http://www.sacu.org/poetry.html
, and I did some alteration.)
**********************************************************
I decided to not edit the pictures anymore due to the fact that it was the feeling I wanted to capture, not a technically well-composed pictures which have perfect aperture, ISO value, shutter speed, sharpness and so on and so on.
I replayed Breakfast At Tiffany's 'Moon River' and looking at one of the picture, and in my heart, I recited
Li-Bai'
s
'Jing Ye Si'
, a poem that flashing in my head with all the childhood memory associated.
All of these, the moonlight, the moonlit helideck, the 'Shang-yue' session with a friend, Li-Bai's poem, Moon River, and the Mid-Autumn Festival, all of these, they came together to me in such an instinctive way.
What if Li-Bai was standing at the bank of the Moon River when he composed 'Jing Ye Si', how would the poem turn into? Something else?
I don't think so.
Because the moon is always the same, from Tang Dynasty, to the era of Andy Williams (singer of Moon River) and the movie Breakfast At Tiffany, and to last night when I took all the pictures from a vessel in the middle of South China Sea -- the beauty of the moon never changes.
It's one thing that remain pure and commonly-shared in nowadays life. No any attempts of diffrentiation can ruin it.
**********************************************************
"Is mooncake halal?" Affendi asked, "is it gummy like dol-dol?"
I sighed, and told Affnedi, "there are halal mooncake in the market, don't worry about that, and it doesn't at all taste like dol-dol, you should try one."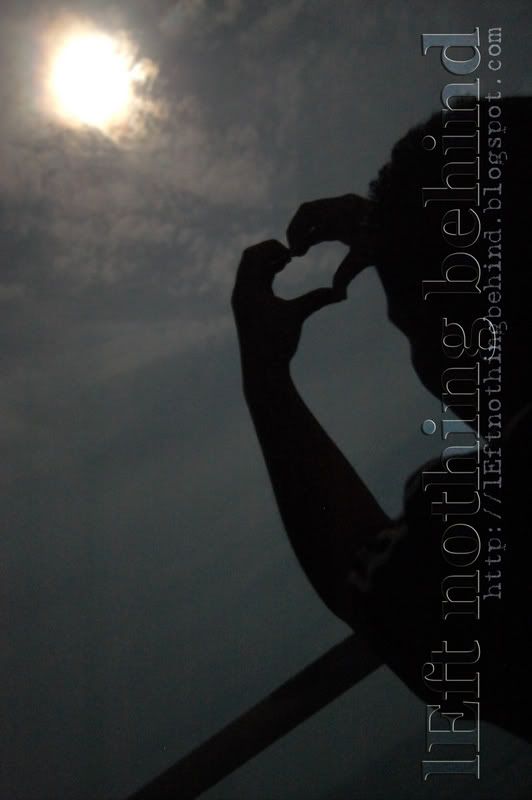 See why did I sigh? Talking about attempts of differentiation. I hate when my friends are forced to be insecure about the outcome of these attempts, I hate when I sometimes unconciously fall into the trap of these attempts. I hate when someone tell me "only Muslims fast".
This world, is getting more and more opened, but it's also getting more and more compartmentalized.
Moon River meets
Li-Bai
? If you feel something wrong about it, please leave.