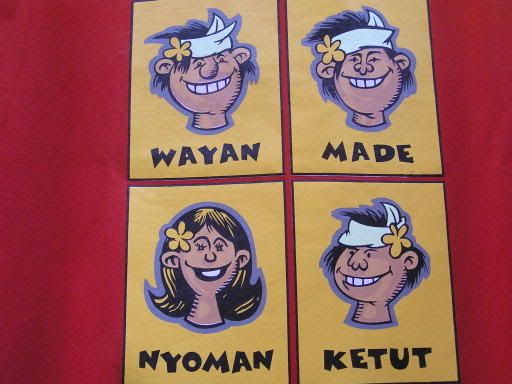 Wayan
,
Made
,
Komang
and
Ketut
.. these names were so commonly heard right after the question "What is your name?" or "Siape name?" when we tried to make friends with the local in Bali. It was confusing at first cuz we, somehow, thought that, these names are the only options for Balinese to name their people.
In fact, similar to what we have in our Malay family,
Wayan
,
Made
,
Komang
and
Ketut
equal to our
Along
,
Angah
,
Alang
and
Achik.
And sometimes,
Wayan
is also called
Gade
;
Komang
is also called
Nyoman
; and
Ketut
, also has an alias.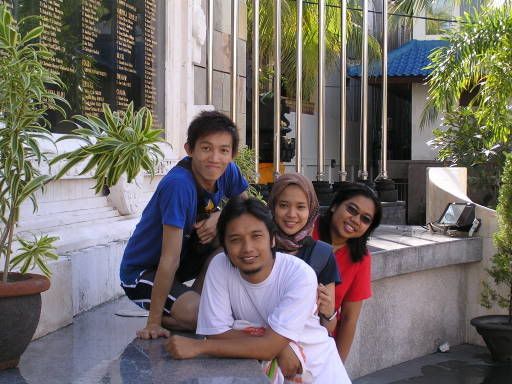 Simple said: Wayan, Made, Komang and Ketut, these four names stand for one word in Bali:
FAMILY.
... and these four names were entirely applied to four Bali loafers that claimed themselves have 'adventurous' as their middle name.
Hence, these four names appeared most of the times in my every blog's entries when I talked about Bali life: the eldest
Azwa the Wayan
or
Azwa Adventurous Wayan
,
Yahya the Made
or
Yahys Adventurous Made
,
Wongey the Komang
or
Aiman Adventurous Komang
, and the youngest
Fiza the Ketut
or
Fiza Adventurous Ketut
.
I really do not know how to express my gratitude to these three comrades of mine. They made the journey of loafing in Bali so memorable and .. cool, hmmm..
Yahya the Made and I planned to go Thailand for our next trip. I kinda love this guy cuz strictly saying, he is the only one among my friends who really 'just go!' right after each traveling idea we made.
We both strongly agree, that too much planning and budgeting and hesitating, will only turn all dreams and ideas into rubbish.
"
What would you do, if you just ignore all your fear?"
I somehow learnt to appreciate this quote when I realized that I've got too many dreams that eventualy turned into garbages.
Fiza and Azwa are kinda surprise for me. Fiza the Ketut always looks serene but you gotta believe what that there are similarities and differences between serene and clueless. She is humorous, mild-mannered but extreme reactor towards doggies.
Azwa the Wayan, relatively, is an aggresive young lady that actualy is the main drive to get lots of plans moving. Matured but playful, considerate but stubborn, wise but emotional -- Contradiction is Wayan's second name.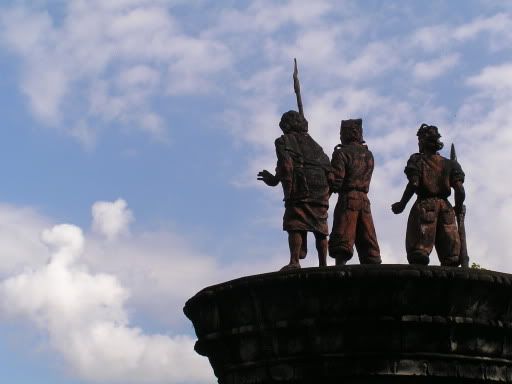 I wish to put more words on these three wonderful people, on this wonderful journey, and on this weird Balinese family. However, people will not have patience to read this entry if it is any longer. So allow me to save this post, save this memory, save this journey, save these friends, and save, this Balinese family.