"See that? That's where we keep it." Zip pointed to the horizon. Sea breeze blew his tanned face. Zip's eyes are always sharp and shined with piercing earnestness, like eagle, but this time I could see some sadness in it.
"That's far away..." I looked at the him, "too far for a thing like
that
to be kept at.. I mean, what if either one of you two need it one day?" I knew I was starting to talk like a busybody.
"Not far. Not at all," Zip answered slowly, "You'll reach there, whether or not you need it."
Only the wave and sea breeze defining the silence between Zip and I. Both of us looked at the line that separating the blue sky and the blue ocean.
******************************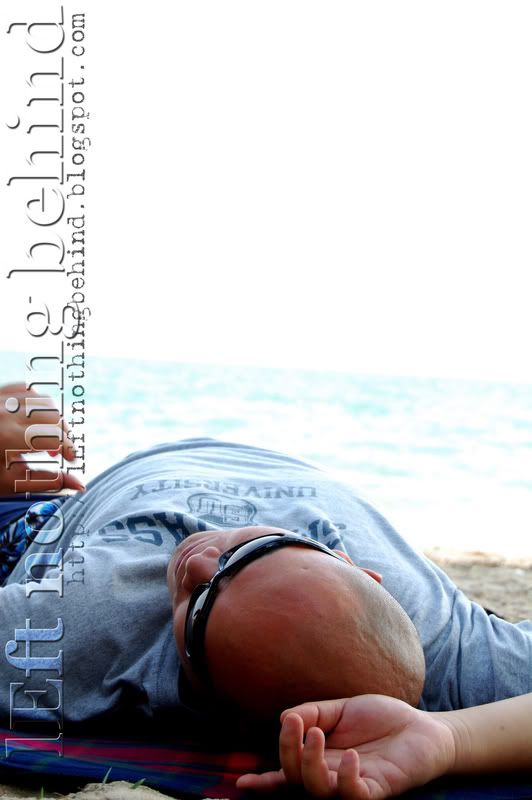 "
Cepat ooi!! Cepat!! Jangan biar dier bangun!! Cepat!!
" chaos, mixed with girls chuckling and guys shouting out of excitement. A guy among them was buried by his friends, yelling for help. They built breasts for him on the sand pile that covered his body. They even erect a bottle at the abdomen part of him. The poor guy screamed, yelled and shouted, because of the ticklish sand, and also because of the 'excitement' he enjoyed.
There was this group of young people having their beach BBQ party. The wave splashed with the mood of celebration, under the big sun, everybody kept on piling up the sand on the guy's body, and to make sure the sand pile was compacted enough, another big bold guy leapt and lay-prone over the sand pile...
"ARGH~~~~~~~" the wail pierced through the warm and salty air on the beach.
A seagull flew by, crossing the blue sky.
******************************
A seagull flew by, crossing the blue sky.
"Elle and I was so much in love with each other," I didn't know whether it was the seagull that flapped off the silence or it was the loneliness in Zip's tone that made the silence more obvious. ".. and I still love her.." Zip continued.
And Elle too.
I believe. I knew Zip and Elle so much. Yes they were so much in love with each others back then, and they
ARE
still loving each others, but things happened. Some frustrations happened between them, and they just chose to ran away and closed the door of their heart.
"... that's why you still keep
that thing
over there?" I asked, looked at Zip, then extended my eye sight to the horizon.
That thing
was kept somewhere along the horizon, according to Zip.
"Elle wanted to throw it away, but you know, she can't throw away
that thing
, nobody can."
"Because once you had it, you're part of it." I nodded.
******************************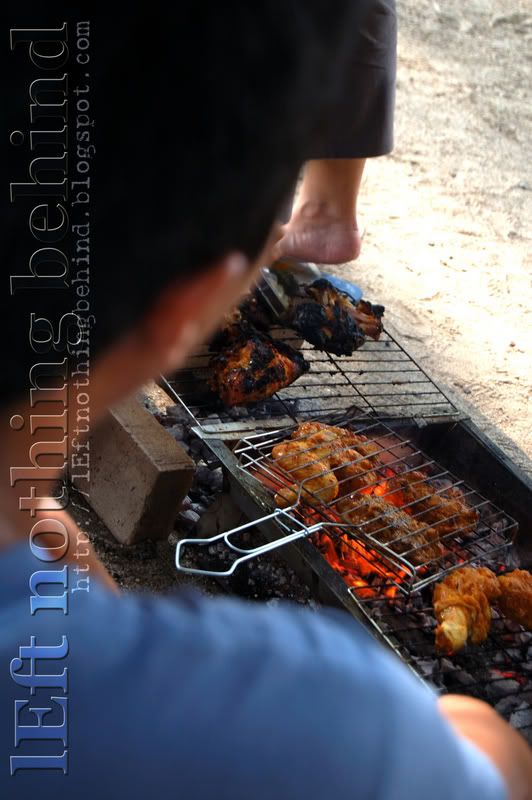 The BBQ was fun. And yummy. It was undeniable that the secret marinade did most of the magic of deliciousy. The guy who prepared it is indeed a good cook, but never a good barbecuer when it comes to play time.
"Sorang-sorang je tau, semua orang pergi main kat sana..."
The lady complained to the vid-cam holder while pointing her fan to the crowd that was playing beach volley ball at the other side. Before the vid-cam holder approached her, she was fanning and barbecuing alone, sitting in the shade of coconut trees. The rest of her friends were having fun and exciting time on the beach, and they all knew very well that, the chickens and sausages would be ready by the time they had enough fun time and started to feel starved. Like kids going back to mum for food after play time.
Poor
barbecuing
mummy.
******************************
"Have you ever wonder what's happening on the other side of the ocean?" I asked Zip. Zip looked at me and I gave him a simpering smile,
yeah I know, lame question, huh?

"Yes I have," Zip gave back a simpering smile, "I still remember back then in my university days, my course mates and I were celebrating our graduation and I was caught and buried by them..."
Zip paused. He understood how surprised I was from the way I starred at him, ".. YES Spidey, I DID have all those young sweet time..."
"O....kay..." I nodded slowly.
That's new
. I thought those high-tech-high-skill 'professionals' would have their own academy, hidden deeply in the forest or maybe somewhere technically unreachable in Himalaya mountain range.
Zip continued. "I just couldn't hold the ticklish feeling of being buried half-nakedly and I screamed like hell asking for help," Zip looked far to the horizon, with a light smile on his face, "..but out of all a sudden I thought I heard echo of my yelling, I thought it was coming from the sky, and then I started to have this question.."
Zip intentionally paused. I raised my eyebrow, waiting for him.
"... 'If the sky could echo my voice, will people at the opposite side of the ocean, at the end of the sky, hear me screaming?'..." Zip looked at me, with his childish smile, "pretty lame, wasn't it?"
"NO" I answered immediately, "Not at all. In fact, I was actually thinking, maybe right now at the opposite site of the ocean, there's a bunch a young people laughing and yelling out of excitement, celebrating their graduation, having somebody buried......"
"Yeah, young sweet time... and they are actually creating
that thing
too." Zip looked at the horizon, as if he could see these young people having their fun time under the sun, spreading their excitement of being young along the horizon.
******************************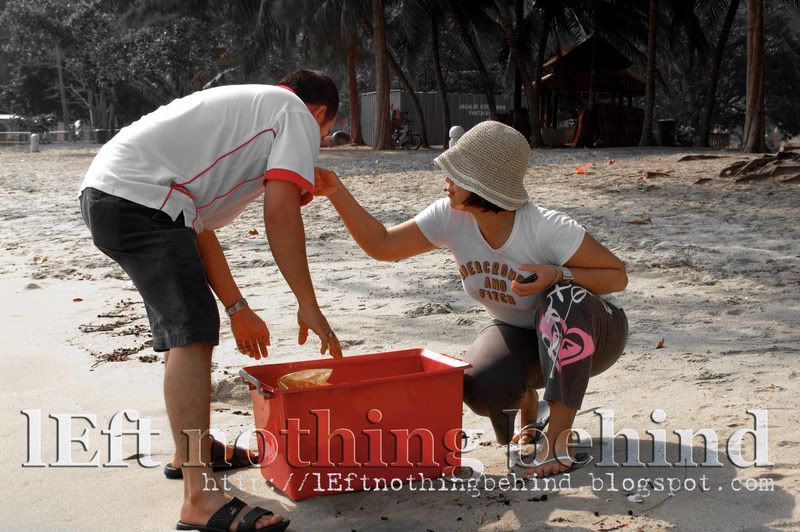 Elle couldn't help but chuckled at the group of young people who played volley ball in front of her. They were so funny and so loved to show off their youthfulness.
Those were the days.
Elle sighed and took a deep breath, looking straight to the line that separates the blue sky and the blue ocean in front of her.
The horizon always made her blue, it reminded her about Zip. She hates him but she loves him more. She wanted to get rid of the feeling but now looking at the young people, she realized that she IS part of the thing that she shared with Zip, which she once said she wanted to throw it to the horizon where she'd never reach it again.
Elle took out her cell phone and searched for Zip's number.
******************************
Zip's cell phone vibrated. An SMS came in. It was Elle.
"Rmmbr the mmrs v had tat u said u ll keep it on the horizon? U re right, v cant throw away things that v r part of it, it's jst like v cant escape frm being on a horizon, cuz v r jst part of it.

Thnks fr th mmrs. Lookin at a bunch of young people celebrating their mmrs made me feel tat i should say tis. BTW where r u nw? I m sitting on a horizon lookin at anthr horizon, wondering will u be there..


...Anyway, again, thnks fr th mmrs."


I looked at Zip. He looked far to the horizon in front of us, "you think keeping memories on the horizon is too far for us to retrieve?"


"Ah..." I couldn't react to his question.

"Elle is with the memories now, at the horizon.." Zip smiled, "..and I'm with the memories too, at this horizon."


A seagull flew across the sky, flapped the silence off, tore the blue.
Thanks for the memories, Elle.
Zip send the message back to Elle, carried by the seagull.
******************************
******************************
'Many-much sorry' Foot-Note:
1. Kill me if you hate me writing in this way, I might have split personality problem recently..
2. Bury me alive if you think I'm being sentimental AGAIN, I'm having blue to think of leaving UTP and Perak...
3. Yes, this is my last entry that posted from Room5, Block3, Village4, UTP -- I'm checking out on this coming Tuesday..

4. For those who dun know who Zip and Elle are, go to
ULAM
, period.
5. ..and yes, those cool faces in my pictures are my course mates. We had this beach BBQ last Monday at Teluk Batik.
6.. Ok
lah
, 'mmrs' is 'memories' in case you STILL don't get it.