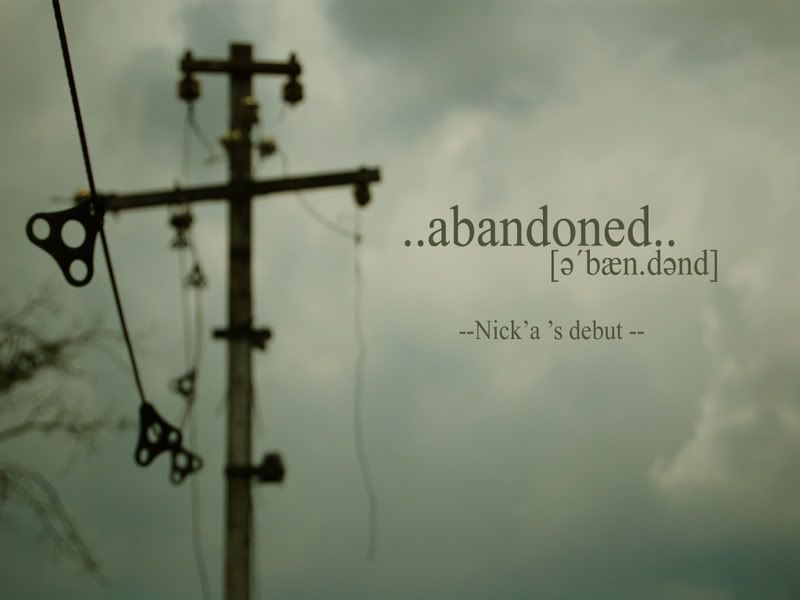 There lay a kitty under the old tree, white in color. Uncombed fur was the only part of its body which shivered, the rest, lay peacefully and quietly as if the kitty was only sleeping, not dead.
I parked near the body, staring at it and hence its surrounding.. It was a quiet and silent afternoon, the leaves of the old trees scattered everywhere, obviously nobody cared to clean them up. I looked at the railway station in front of me, the sign board of "Stesen Keretapi Batu Gajah" looked pathetically pale and the whole building was severely flaked off here and there..
I was still sitting in the car. Loading my Nick'a with its battery and some setting. It was my first mission out with Nick'a and I only had a spot but not any threads of idea of shooting good pictures out of here..
.. but I did feel that there was this 'something something' which lay behind what I saw over here..the quietness, the silence, the loneliness.. no, I didn't really manage to capture that particular feeling that haunted me.. until I heard the rumble of a train approaching..
Train?
Absolutely it was. So long, so loud, I witnessed it with my eye, rumbling on the railway in front of the platform, approaching the station, the train gave the station 2 honks as if there were people waving from the platform, rumbling never stopped, nor slowed down, passing by, passing by, so long, so loud, passing by, passing by...... ......
...... ......
The noise slowing down as the train getting further and further away from the station until it was finally muted. The train just passed by the station, it didn't stop. Everything was back to as before -- the quietness, the silent, the loneliness.. but not the clueless me.
I was dazed. I was stunned. The whole 'something something' was all about a 'timeless' touch of this place... I got it..
...trains will just be passing by and it'll not define any meaning of a 'station'..
...as wind keeps flowing by but I don't feel any meaning of time...
...as the leaves kept falling but they were no more any sign of growing of the tree...
...as the body of kitty lying over there, it didn't anymore indicate that there was an end of a life...
... ... only time is dead; the kitty, the trees, the railway station, are abandoned.
I got back into the car and pulled out my handbook. "Abandoned" I wrote. The song of The Fray, "Vienna", started to play in my head, defining the mood so well..
I held Nick'a in my hand, switched it on, "No gorgeous debut, Nick'a." I kinda told him. Yes, we were going to shoot stuff that people left behind, no gorgeous, only
sampah
we shoot.