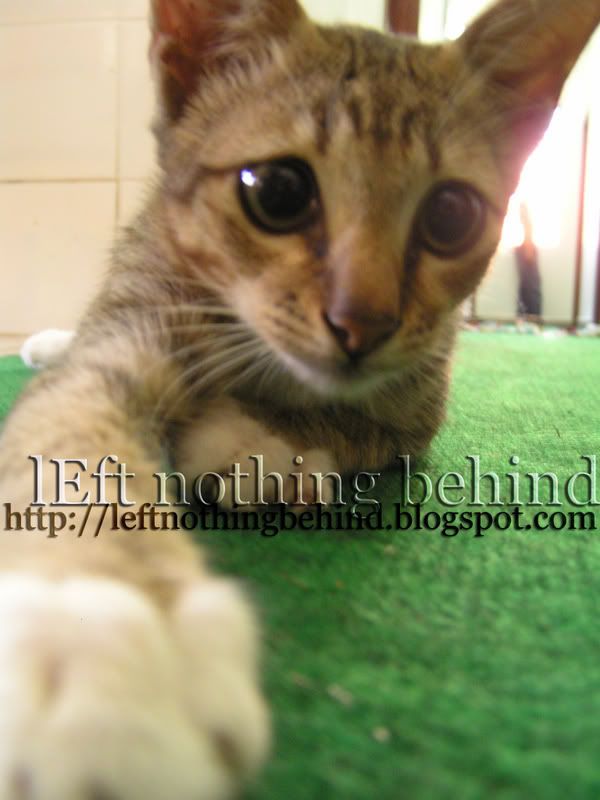 Oh yeah my little specky dog featuring in my last entry names Wellington. Many of my readers found it cuter than his master.. duh.. those people are simply too caring to try to compare a human with a huggy animal -- THAT'S NOT FAIR -- of course human being is always uglier!
Ok now I introduce to you another heavenly CUTE huggy creature -- Brad. I bet Wellington won't like him but Brad, with his full-of-curiousity-big-eye on his little face, would xtremely love Wellington and scratch him and kiss him and hug him..
I met Brad in one wonderful morning and I believe meeting Brad made the wonderfulness fully complete the rest of my entire day. Brad names Brad just because Brad is naughty and playful. Unlike Wellington. Wellington is quiet and matured and smart.
Well I'm not going to describe how cute Brad is and how naughty he is. Obviously this entry is posted for the sake of killing time while waiting for my friends to finish their Friday Prayer, and also to grant the wish of my friends to show Brad's photos online so that they can see him and maybe kiss him thru the screen of their PC, like Brad tried to seduce me through my camera lens when posing in front of me.